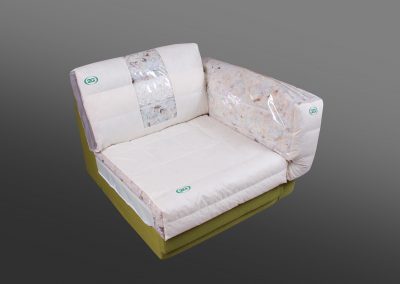 Upholstery padding
Our company produces padding for the production of upholstery, especially for sofas and armchairs. This products are 100% made to order so customers specify their size, weight, durability and other preferences. Various padding materials are available such as polyester, polyurethane foam or feather. To attain the shape stability, a blend of these materials is used. For covers, the most often used ones are a mix of cotton and polyester or 100% cotton fabric or materials made with polypropylene.
Thanks to the wide range of materials at our disposal during production, we are able to meet the upholstery needs of all our business partners and customers alike, as evidenced by stable business relations with customers both domestic and abroad. We are always able to reach our goal of quality padding for both perfectly shaped pillows and furniture for lounging.
Thanks to the materials used and many years of experience, we are able to meet the needs of companies and customers involved in the production of upholstered furniture. This is testified by stable business relations with domestic and foreign customers. So we fulfill the goal of creating quality filling pads for high-quality furniture.
Your cover
do my english homework for me
letter can make a huge difference in hiring decisions because it allows you to speak in a more professional manner